Here are a few of our favorite web sites.
Just click of the highlighted text of the site you are interested in and you will immediately be directed to it.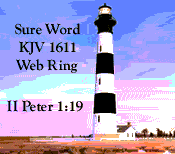 In Touch: Dr.Charles Stanley This site is based around the teaching ministry of Dr. Charles Stanley, First Baptist Church of Atlanta, Georgia.

Thru The Bible One of the greatest Bible teachers of our day, Dr. J. Vernon McGee takes you on a complete, in-depth study of God's word.
Love Worth Finding Ministries Dr. Adrian Rogers, an exciting Bible preacher of today is the voice of Love Worth Finding Ministries, Memphis, Tennessee. Visit this site for real audio sermons from Dr. Adrian Rogers and much more.
My Daily Psalm A daily devotional by Kerry Hollis. Get on the mailing list today for a wonderful study of the Psalms everyday.